Are you thrilled about becoming a parent? Surprise the dad-to-be in creative ways with the news of your pregnancy announcement. Our article shares unique and heartfelt ideas that will make this moment special.
Personalized gifts, sentimental gestures, puzzles, and secret messages are just a few options we offer to impress your dad.
Let's make this occasion unforgettable, filled with joy and anticipation. Get ready to explore a world of surprises as you count down to parenthood!
Why Creative Pregnancy Announcements Are Important
Pregnancy represents a remarkable period that profoundly alters an individual's life.
Sharing this news with the father-to-be should be just as meaningful and memorable. A creative pregnancy announcement adds an element of surprise and excitement, creating a lasting memory for both partners.
It demonstrates the thoughtfulness and effort put into making this moment unforgettable, setting the tone for the exciting journey of parenthood ahead. A creative pregnancy announcement shows your love and enthusiasm for the new addition to your family.
It's a way of celebrating the start of a new chapter while sharing the anticipation and joy with your partner. So, let's explore some tips to help you plan the perfect surprise pregnancy announcement!!
Tips for Planning a Surprise Pregnancy Announcement
Choose the right timing: Consider the best time to make the announcement. Find a moment when both of you are relaxed and have time to savour the joyous news. Avoid times when your partner is stressed or preoccupied with other things.
Think about his preferences: Consider your partner's interests, hobbies, and personality when planning the announcement. Tailor the surprise to his preferences, whether it's a sport he loves, a hobby he enjoys, or a favourite pastime.
Prepare for the unexpected: While you may have planned every detail meticulously, be prepared for unexpected reactions.
Your partner may be overwhelmed with emotions, so be ready to provide support and reassurance if needed.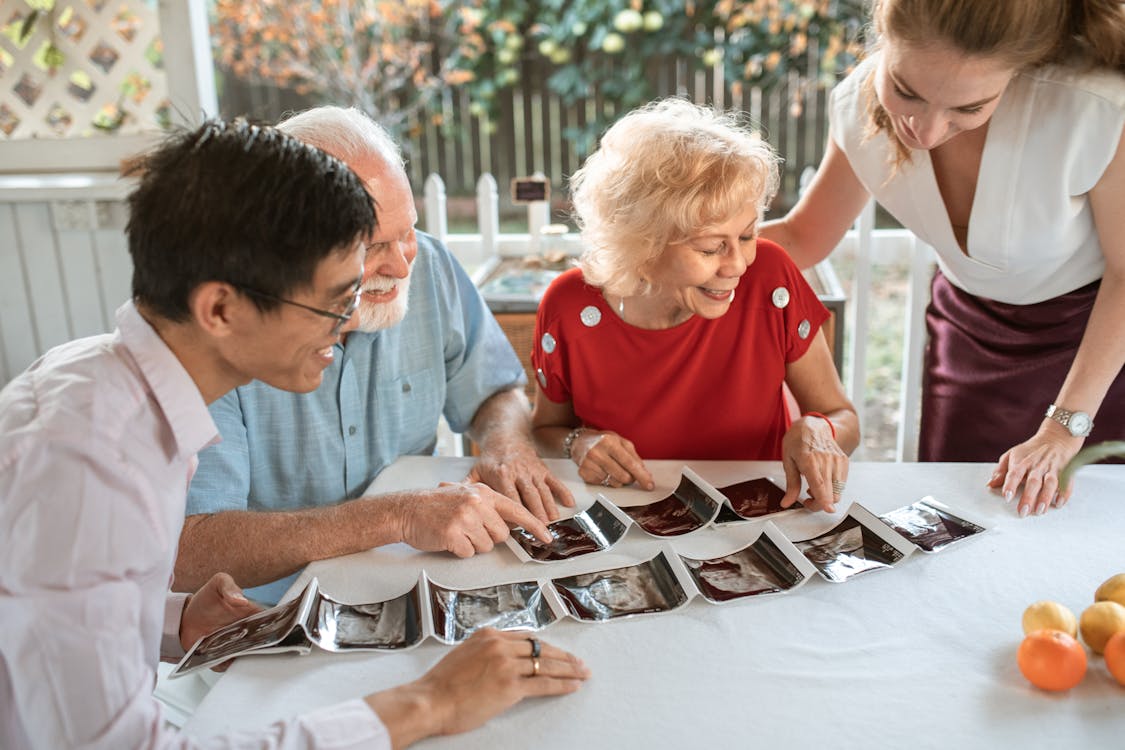 Best Ways to Announce Your Pregnancy to Your Partner
Personalized Gifts: Surprise your partner with a personalized gift that reveals the pregnancy. You can consider a customized onesie, a baby book with a note inside, or even a pair of baby booties with a note saying "Coming soon!"
Scavenger Hunt: Create a fun and exciting treasure hunt that guides your companion to various locations. Each clue can be personalized and relate to your journey as a couple.
Secret Message: Write a heartfelt letter or hide a note inside your partner's everyday belongings, such as his wallet or work bag. It will be a delightful surprise when he discovers the message and realizes the exciting news.
Fun and Unique Pregnancy Announcement Ideas
Movie Poster: Create a poster featuring your partner as the main actor titled "The Dad-to-Be." Display it somewhere unexpected, like on the bedroom wall or the fridge, and capture his reaction when he sees it.
Puzzle Announcement: Turn your pregnancy announcement into a fun puzzle. Write the message on a puzzle and ask your partner to solve it. As he puts the pieces together, the exciting news will be revealed.
Fortune Cookie Surprise: Order customized fortune cookies with the message "You're going to be a dad!" Serve them as a dessert after a special dinner, and watch his face light up as he reads the message.
Capturing Pregnancy Announcement Moments
When documenting your pregnancy announcement, capturing the moment with memorable photos or videos is essential. Here are a few tips to help you create lasting memories:
Plan the setting: Choose a location that holds significance to you as a couple or represents your personality. It could be a favourite park, a cosy living room, or a scenic outdoor spot.
Use props: Incorporate props that symbolize pregnancy, such as baby shoes, ultrasound photos, or a chalkboard with the due date. Props can add a personal touch and make the photos or videos more engaging.
Focus on emotions: Capture your and your partner's genuine reactions and emotions.
Whether it's tears of joy, laughter, or pure astonishment, these candid moments will make the announcement more heartfelt.
Read about Pregnancy manga.
Involving Family and Friends in the Pregnancy Announcement
Sharing the joy of your pregnancy with loved ones can make the experience even more special. Here are a few ideas to involve family and friends in your pregnancy announcement:
Surprise Announcement Party: Organize a surprise announcement party and invite close family and friends. You can reveal the pregnancy with a heartfelt toast or a creative game.
Customized T-Shirts: Have custom-made T-shirts for your partner and yourself with messages like "Dad-to-Be" and "Mom-to-Be." Wear them to a family gathering or a casual get-together and wait for the reactions.
Photo Shoot: Arrange a family photo shoot and let your photographer capture the moment you reveal the pregnancy announcement. The genuine reactions of your loved ones will be priceless.
How to Handle Different Responses to Your Pregnancy Announcement
When announcing your pregnancy, you must be prepared for various reactions. Here's how to handle different responses with grace and understanding:
Excitement and Joy: Celebrate together if your partner reacts with excitement and joy! Share in the excitement and discuss your hopes and dreams for the future.
Shock or Surprise: Some partners may initially be shocked or surprised by the news. Give them time to process their emotions and offer reassurance and support.
Mixed Emotions: Your partner can have mixed emotions, such as excitement and anxiety. Listen to their concerns and address them together as a team.
Remember, everyone's reaction is unique, and it's important to respect their feelings. Now, let's wrap up and celebrate the joy of announcing your pregnancy creatively!
Conclusion
You announce your pregnancy to your partner with excitement, anticipation, and love. You can make this special occasion even more memorable by getting creative and planning a surprise announcement.
From personalized gifts and heartfelt gestures to clever puzzles and secret messages, there are endless possibilities to surprise and delight the dad-to-be.
So, let your creativity soar, and enjoy the journey of parenthood together, starting with a surprise announcement that will be cherished for years to come.